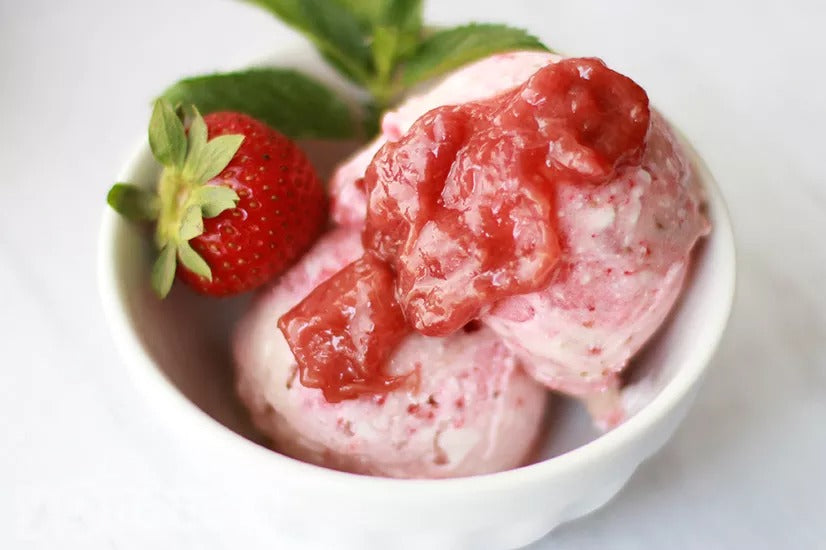 Strawberry Rhubarb Yonanas
Ingredients
1. 2 frozen over-ripe bananas
2. 4 coconut milk cubes
3. 1 cup frozen strawberries
4. 2 small stalks rhubarb, chopped
5. 1/4 c. raw honey or vegan sweetener such as agave
Instructions
1. Make the Coconut Milk Cubes in advance: Freeze coconut milk in ice cube trays overnight. TIP: Do not shake can of coconut milk. Skim coconut from the top of the can to fill ice cube trays, leaving remaining coconut water. This will help create creamier coconut cubes!
2. Place the chopped rhubarb and honey in a small saucepan. Bring to a simmer. Cover and let simmer on medium heat for about 10 minutes, stirring occasionally. Rhubarb should break down and the mixture should be a jam-like in consistency. Place the rhubarb mixture in an air-tight container and refrigerate overnight, or until cold.
3. Slightly thaw your frozen fruit prior to putting through your yonanas maker.
4. Insert one frozen banana
5. Add 1/2 c. frozen strawberries
6. Alternate remaining ingredients
7. Drizzle the rhubarb mixture on top of your yonanas