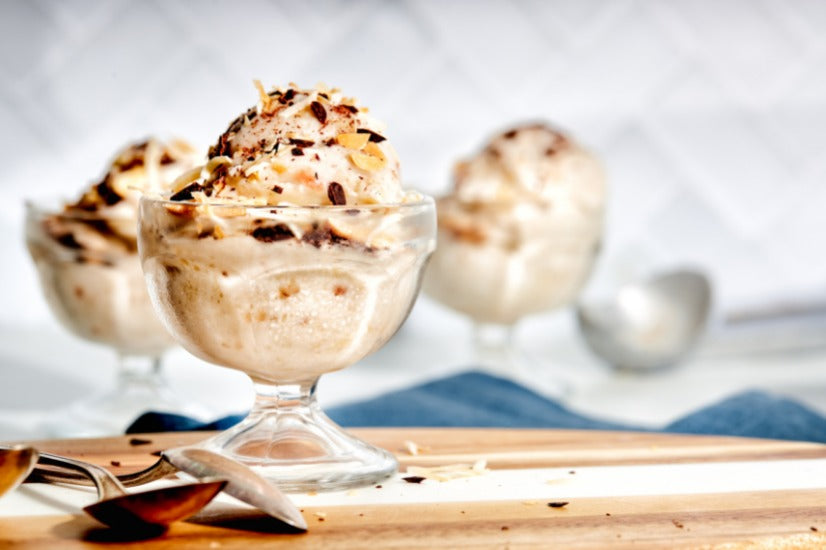 Almond Coconut Chocolate Yonanas
Ingredients
1. 2 over-ripe frozen bananas, cut in half
2. 4 cubes almond coconut cream
3. 1/4 cup toasted coconut, unsweetened, for garnish
4. 1/4 cup toasted slivered almonds for garnish (optional)
5. Almond Coconut Cream
6. Ingredients
7. 1 can, 13 oz. or so, unsweetened coconut cream
8. 1 tablespoon almond extract
9. 2-3 teaspoons vanilla extract
Instructions
1. Insert 1/2 banana
2. Add 1 cube almond coconut cream
3. Repeat 3 times. Instructions Almond Coconut Cream
4. Whisk together coconut cream and extracts.
5. Pour into ice cube trays and freeze
6. Yield: 10-12 cubes INDULGENT
7. For a richer almond coconut cream, use only the top layer of cream on top of the coconut cream, 1 teaspoon almond extract and 1/2 teaspoon vanilla extract, or to taste.
8. Your yield will be less, about 6-8 cubes or so.
9. Sub sweetened toasted coconut for unsweetened
10. Add dark chocolate shavings on top, then add coconut and almonds