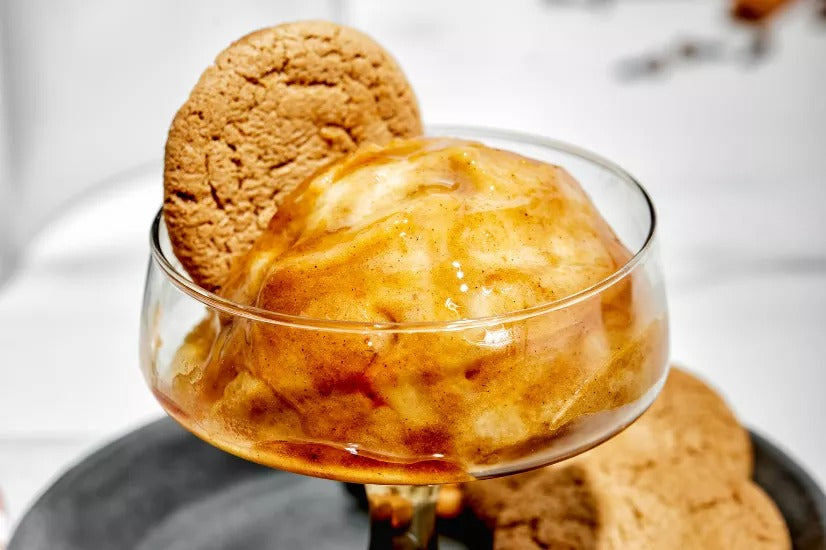 Pumpkin Chai Swirl Yonanas
Ingredients
1. 2 over-ripe frozen bananas, cut in half
2. 4 frozen pumpkin chai cubes (recipe follows)
3. Maple syrup for garnish. Pumpkin Chai Cubes
4. Ingredients
5. 1 can, 15 oz. pumpkin puree
6. 1 teaspoon pumpkin pie spice
7. 1 teaspoon cinnamon
8. Pinch or two powdered cloves
9. 3 tablespoons pure maple syrup. Make Pumpkin Chai Swirl
10. Insert 1/2 banana
11. Add 1 pumpkin chai cube
12. Repeat 3 times.
Instructions
1. Whisk puree, pie spice, cinnamon, cloves and maple syrup together.
2. Spoon into ice cube trays and freeze, or scoop into generous table-spoonful amounts and freeze in single layer. INDULGENT
3. Along with the maple syrup drizzle, top with ginger bread cookie, or
4. place scoop of pumpkin chai on a square of gingerbread and drizzle with maple syrup.
5. Switch it up!
6. Substitute agave or honey for the maple syrup.