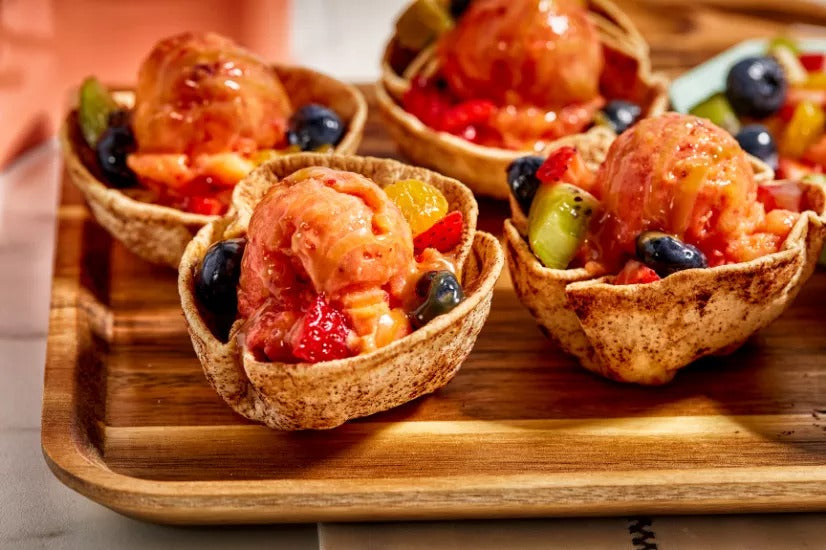 Fruity Cocktail Granita Yonanas
Ingredients
1. 1-1/2 cups frozen orange or tangerine slices, divided into thirds
2. 1-1/2 cups frozen chunky mixed fruit, divided in thirds. INDULGENT
3. DULCE DE LECHE SUNDAE CUPS WITH FRUIT SALSA
4. Ingredients
5. Cinnamon tortilla cups
6. Fruity cocktail granita
7. Dulce de leche caramel sauce
8. Fresh fruit salsa
Instructions
1. Instructions
2. Insert 1/2 cup orange slices
3. Add 1/2 cup mixed fruit
4. Slowly press contents through machine with plunger
5. Repeat twice.
6. Instructions: Cinnamon tortilla cups
7. Preheat oven to 325.
8. Spray 6-7" flour tortillas on both sides with cooking spray or brush lightly with oil.
9. Sprinkle with a little cinnamon on both sides.
10. Carefully press tortillas in muffin cups, folding as necessary to fit.
11. Bake 10-15 minutes or until golden brown and crisp.
12. Cool and remove from muffin cups.
13. Store, covered, at room temperature up to 2 weeks.
14. Instructions: Fruit salsa
15. Finely dice several kinds of favorite fruit.
16. Strawberries, kiwi and blueberries are a nice combination.